Company introduction
Production activity started on 1. 2. 1998.
---
Company certification
KOPOS-OIL, s.r.o. is a holder of the ISO 9001 quality certificate, ISO 14001 environmental certificate and EU-ISCC certificate.
All products are certified by SGS Czech Republic, s.r.o. Prague. Every delivery of diesel fuel is certified according to the European standard EN 590 + A1 before being placed on the market.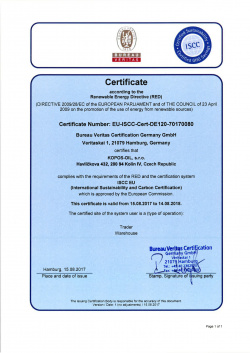 ---
Contact
KOPOS-OIL, s.r.o., Havlickova 432, 280 94 Kolin IV, Czech Republic
Data Box ID: rh2ggjh
IR: 251 47 714

The company is registered in the Commercial Register maintained by the Municipal Court in Prague, Section C, Insert 53588.
Ing. Josef Vavrouch – Executive Director