Cable supporting systems with maintained funcionality in fire
KSK wiring boxes as a standard constructions
The cable inlet is mounted to the box using a standard route, most often using separate cable clamps 67xx, Omega or Dobrman.
You can also use the box as a non-standard load-bearing structure (eg via wiring pipes ...)
For power and data uses
in three sizes (KSK 100, KSK 125, KSK 175)
possibility of variant box with fuse (thermal and current)
MDS mounting plate is used to fasten the cable trays
The use of cables for KSK boxes depends on the type of construction that the boxes are part of. For information on applicable cable types (or without limitation = standard route), see the catalogue Systems with maintained functionality in fire from KOPOS KOLIN a.s.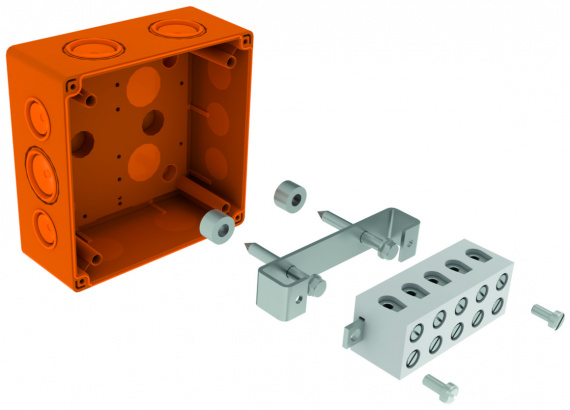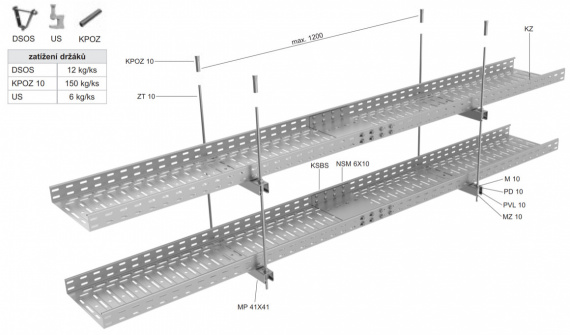 ---
Own test in the fire chamber
What is necessarily to do?
Preparation of systems before assembly (joining and cutting of trays, ladders, pipes, etc.) Preparation of profiles and threaded rods at required lengths
Preparation of the chamber - drilling holes for anchoring individual routes
Preparation cabling for systems - cable cutting, cable spraying and inserting cables into trays, ladders, clamps... etc.
Assembly of systems into the chamber - insertion of systems together with cables into the fire chamber
System balancing - using chains to the required load
Electrical connection of cables - to clamp all the cores with terminals
Self-test PO – duration up to 120 minutes
After the PO test, a test report is issued by the examiner and a statement is issued on the test. These documents are sent to EZÚ and KOPOS KOLÍN a.s. a certificate is issued that allows us to sell the systems.
| Class | Class | Functionality in minutes |
| --- | --- | --- |
| P15-R | PH15-R | ≥ 15 |
| P30 | PH30-R | ≥ 30 |
| P45-R | PH45-R | ≥ 45 |
| P60-R | PH60-R | ≥ 60 |
| P90-R | PH90-R | ≥ 90 |
| P120-R | PH120-R | ≥ 120 |
If the cable route is fixed directly to a building structure from a material such as concrete, brick, aerated concrete or a steel support structure, only such anchorages must be used for the connection to the structure with respect to:
The type of material used
The method of assembly used
Required duration of heat loading
Required time of functionality in fire
Mechanical load with carrier and fixing structure with cables
To attach the cable route, you can use for example:
screw joints
riveted joints
welded joints
The suitability of fastening for the purpose must be proven by a test or documented by a static calculation.
Conclusion:
When installing fire-resistant routes, we should always ensure that everything is properly installed in accordance with the standard and installation instructions, procedures and descriptions listed in the producer´s catalog.
It should always be about the safety and protection of human or other sources from the devastating effects of the fire.
References:
[1] Czech Technical Standard ČSN 73 0895 - Fire Safety of Buildings - Maintaining the Functionality of Cable Tracks in Fire Conditions - Requirements, Tests, Classification of Px-R, PHx-R and Application of Test Results
[2] KOPOS Catalog - Systems with maintained functionality in fire 2017
[3] DIN 4102-12 Brandverhalten von Baustoffen und Bauteilen - Teil 12: Funktionserhalt von elektrischen Kabelanlagen; Anforderungen und Prüfungen